Recently in work I have been asked to crochet things for various charities, which I love! I've been thinking to myelf for a while that I'd like to do something craft related for charity, but I've been struggling for ideas.
I'm very happy and proud of these opportunities for two main reasons; It's for great causes, I'm using my skills to help people in need, I can do what I love but with a greater purpose. The other reason is being requested to do this gives me a a
huge
sense of approval and validation, a lot of people are amazed at my skills (even more so due to my age and sex.) It feels great to get some gratitude and appreciation every now and then , and these projects give me just that, the sense that, my work is good enough.
The latest charity project I've been working on is
The Poppy Appeal
, which is a annual campaign held on the run up to November the 11th, Remembrance Day, or as it is known in the USA, Veterans Day.
Here in Britain every year poppy pins are sold
everywhere
and all money raised goes to The Royal British Legion charity.
The Royal British Legion is a leading UK charity providing support to the serving and ex-Service community and their families.
So this year instead of the usual paper poppies bought I've been crocheting as many as I possibly can and selling them in work for the The Poppy Appeal and so far I can't make enough they're a real hit!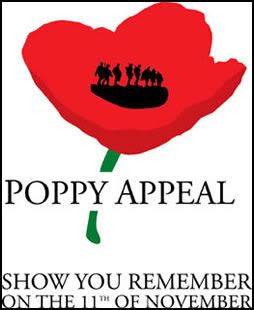 I'll post the two patterns I have been using shortly, should you wish to get in on the action for if you just want to make poppies.